Have you decided to work from a coworking space in Sydney but have trouble picking the right place? No stress, we've compiled some of best coworking spaces in Sydney to make your decision easier. We've listed everything from the best spaces for freelancers, those geared towards startups, and to those with a specific industry or geographic focus. Read on to learn more.
In Australia alone, there are over 300 coworking spaces catering to a wide spectrum of businesses of all shapes and sizes. This article mainly focuses on coworking spaces that cater to freelancers and startups as opposed to serviced offices (e.g. Regus), and those that mainly cater to small to medium-sized enterprises (SME's) and larger organisations (e.g. Wework).
Choosing the right co-working space can be an arduous task especially when factoring in things like cost, location, work culture, and amenities. To make things easier for you, we've categorised these spaces based on their pricing, target group, location and specialisation.
The difference between coworking spaces and incubators
Coworking spaces are simply what the name suggests: a space to work together in. You get a desk, internet connection and you're ready to go. The majority of coworking spaces are open to all businesses: from freelancers to SMEs and large corporates. They do not cater specifically to startups.
Incubators, on the other hand, usually provide additional services geared towards startups. This may include guidance, education, investment, resources, and connections to propel them forward as a growing business.
However, the terms are usually used interchangeably and therefore we've decided to simply use the more commonly used term coworking space. We have, however, tagged each coworking space that offers incubator services.
List of Coworking Spaces in Sydney
Read about each coworking space or jump directly to the one you're interested in. Please note this list is not exhaustive and is mainly focused on coworking spaces that cater to startups.  
Fishburners | Hub Australia | Haymarket HQ | WOTSO Workspace | Stone & Chalk | The Studio | Tyro FintechHub | Tank Stream Labs | EngineRoom | TwoSpace | Common Room (Vibewire) | Cicada Innovations 
Word of advice: don't just take our word for it, the best way to experience a coworking space is to go for a free trial.
early stage startups, Australia-focused, CBD, Sydney Startup Hub
Location: 11 York St (Sydney Startup Hub)
Cost (full-time dedicated desk): $550/month
Free trial: Five days
Geographic focus: Australia
credit: fishburners
A vibrant space for early-stage startups and freelancers
Fishburners is one of Australia's oldest coworking spaces that recently moved to a brand new building in Sydney CBD. Set up by Pete Davison, early-stage investor in Paypal, and currently run by Annie Parker, former head of Muru-D, it's a well-known coworking space for early stage companies and freelancers. Today, it boasts more than a hundred startups and hundreds more young enthusiastic techies and entrepreneurs and is one of the largest coworking communities in Sydney. It's known for its lively atmosphere and is busy day in and day out with an assortment of events, classes, workshops, and seminars.
Best suited to?
Early-stage companies, particularly those focused on the Australian market. Fishburners is perfect for those who like a bit of frat-house noise and lively bustling atmospheres.
"Fishburners is a great place for a startup – conveniently located, with great facilities and friendly staff. It's an even greater community – so great that we just had to stay here after being bought out by a global brand (and staying here was one of my conditions for the deal). A true Sydney institution that is and will be shaping the tech ecosystem in Australia."

— Kuba Tymula (via Facebook)
flexible workspace, shared office space, serviced office
Where: 101 William Street, Darlinghurst; 223 Liverpool St, Hyde Park
Cost: $550/month (24/7 flexible access); $750/month (dedicated desk)
Free trial: 1 day
Geographic focus: Australia
credit: hubaustralia
A bright and diverse hub for freelancers and SMBs
At Hub Australia, they believe that community is key. Team values and collaboration is very much the core of their culture and the Hub's community spirit is reflected in their bright and industrial surroundings with break out areas, relaxation and recreational facilities, community lunches and get togethers, and useful events for wellness and learning. Their upcoming new location will also feature facilities such a gym, cafe, parents room, and relaxation room to provide their members with the best comforts of a work-life balance all the while fostering motivation and enthusiasm. Shifting away from a traditional hierarchy of clients and management, the Hub is all about community and collaboration.
Best suited to?
Freelancers and small businesses will thrive here. Hub Australia is perfect for growing small businesses looking for opportunities to collaborate and foster connections and improve skills. Useful workshops and events will provide many opportunities for networking and learning and their spacious modern offices is always humming of creative and innovative minds .
"It has a true sense of community and is always buzzing with positive energy to feed off. Co-working is a great way to work and Hub have created a fantastic environment that allows you to enjoy it to the fullest. It has a true sense of community and is always buzzing with positive energy to feed off. We love working here, recharging in the common area and interacting with the diverse range of people who call the Hub home."

— Laurence Morris (Nando's Grocery, Managing Director)
incubator, global, Asia, China, CBD
Where: 2/63 Dixon St, Haymarket
Cost (full-time dedicated desk): $450/month
Free trial: 1 day
Geographic focus: Global, China, Asia
Australia's first global startup hub with a focus on Asia
Asia is the most populous region in the world and home to some of the largest and fastest growing markets. More and more businesses are looking into expanding into Asian markets and especially to China which has fast become Australia's largest trading partner and a major driving force in the world's economy. However, with the sea of opportunities in expanding to Asian markets there comes just as many challenges.
This is where Haymarket HQ comes in. By providing startups with access to a lucrative wealth of information and networks in Asia (mainly China), HHQ provides businesses with all the support they need to expand and grow both in local and Asian markets. Though smaller than some of its coworking counterparts, the HHQ community is a family of like-minded entrepreneurs and mentors, some of whom have had extensive experiences across Asia-Pacific.
Located in the heart of Sydney's Chinatown, it also hosts a wide range of events and workshops and has partnered or worked with the likes of Alibaba, Tencent and Microsoft. As Australia's first innovation hub for Asia, it is also a landing pad for many Asia-oriented investors looking for opportunities and Asian startups coming to Australia. Check out membership packages here.
Best suited to?
Haymarket HQ is best suited to startups with ambitions to expand into Asia, particularly those wanting to find connections and grow in China. Innovative businesses in early or mid stages will find the community of mentors, investors, and fellow like-minded entrepreneurs incredibly beneficial.
"Haymarket HQ is a great place for startups, especially for ones that want to expand to Asia. We've met so many innovative and creative people and gained a lot of invaluable information not just from the events but from other startups working here. Plus, they've got some pretty competitive ping pong players!"

— Marty Spargo (Founder of Reize)
flexible workspace, shared office space, serviced office, month-to-month contracts, virtual offices
Where:  Pyrmont, Bondi Junction, Neutral Bay, North Strathfield, Penrith
Cost: Contact for more information
Free trial: 1 day
Geographic focus: N/A
credit: wotsoworkspace
Ideally suited for SMBs and freelancers living just outside of the CBD
WOTSO offers coworking space and private offices in five locations in Sydney. They mainly cater to small businesses and freelancers and focus less so on (tech) startups. However, their low monthly fees and locations just outside of CBD offer a great alternative to the more pricey WeWork. Wotso also offers virtual office spaces and members are able to hot desk at other WOTSO locations which makes working while travelling convenient. Currently, there are over twelve WOTSO locations all over Australia, with three spaces in Sydney alone.
Best suited to?
With space and flexibility being their unique selling point, WOTSO is ideal for anyone who just wants their own environment to work. Small to medium businesses or individuals that are looking for short-term spaces for meetings or casual day workspaces to freelancers, project teams, startups, sole traders, or established companies needing a short-term lease for project work will find the month-to-month contracts ideal when not wanting to commit to a long lease.
"WOTSO is a lot more than just a shared office space with a bunch of desks and wi-fi. When you join, it feels like you have joined a company, with all the team spirit and camaraderie that comes with this. It's the perfect antidote to freelancers and start-up businesses who have had enough of working at home."

— Caleb Hulme-Moir (Mana Communications)
fintech, global, incubator, CBD, Sydney Startup Hub
Where: 11 York Street (Sydney Startup Hub)
Cost (full-time dedicated desk): $650
Free trial: Tours depart from reception every Thursday 5pm
Geographical focus: Australia, Asia
credit: gizmodo
A well-known hub for fintech startup in Sydney CBD
Already the largest fintech hub in Asia, Stone & Chalk aspires to be the "centre of gravity" for the local Australian fintech ecosystem. Their mission is to support startups that are looking to disrupt or innovate the Asia-pacific financial services and help them commercialise and scale with global organisations. Stone & Chalk is a place for entrepreneurs to connect with established players in the financial sector as well as tech giants in order to push them to new heights. With several financial heavyweights as its partners, startups gain access to many capital investment opportunities and institutional connections that will guide them through the highly regulated financial services industry. Part incubator, Stone & Chalk is a highly driven community that is committed to pushing Sydney to the forefront of the global finance sector.
Inside the building, inspirational chalk drawings and writings reminiscent of brainstorming sessions cover every inch of the walls to reflect its namesake. Another noticeable feature is the lack of barriers and dividers between spaces, done strategically in order to encourage organic collaboration between different parties.
Best suited to?
Stone & Chalk is always on the lookout for new scalable fintech concepts, particularly niches that have the potential to be competitive in Asia and on a global scale. A large fraction of their startups are at their pre-seed to Series A level of funding and often have products that are scaling either nationally or internationally and they foster all areas of the fintech landscape including peer-to-peer, crowdfunding, automated advice, capital markets, crypto-currencies and everything in between. Be wary that there is a selective process in order to become a part of the community.
"Exactly what startups need. A supportive environment that helps startups meet potential corporate clients."
— Geoff Kendall (via Facebook)
tech, media and creative sectors, content creators, Sydney Startup Hub
Where: Level 6, 11-31 York St (Sydney Startup Hub)
Cost: Contact for more information
Free trial: N/A
Geographic focus: Australia
credit: thestudio
A brand new hub focused on creatives in CBD Sydney
Another coworking space focused on Australia's growing tech startup ecosystem, The Studio places its focus on media, entertainment, music, games, and other creative industries. With the hopes of supporting Australia media startups on a global scale, The Studio provides workshops, mentoring, accelerator programs, master classes, seminars, and pitch and ideation events to inspire the next generation of digital natives in the rise of media and art-based tech entrepreneurs and content creators.
One of the four anchor tenants of the Sydney Startup Hub (alongside Fishburners, Stone & Chalk, and Tank Stream Labs), The Studio is unique in its provision of various studios that include the latest tools and equipment in VR, green screen, sound studios, editing suites, and test benches. Furthermore, designed with connecting with Australian growth industries in mind, The Studio has links with numerous government media organisations, museums, as well as leading Australian universities.
Best suited to?
For any startups who are involved with media and creative sectors, The Studio provides a lucrative coworking space that also has access to a wide range of traditional and emerging technology used within these industries. Startups that come from areas such as fintech, health-tech, edu-tech, as well as media-first startups will be most suited here. The Studio also encourages women entering into tech fields and also offers educational programs for school students.

incubator, fintech, disruption, finance, banking, insurance, global
Where: 5/155 Clarence St, Sydney
Cost (full-time dedicated desk): $692/month
Free trial: N/A
Geographic focus: Global
credit: startupdaily
A fintech hub by one of Australia's greatest fintech success stories
Tyro FintechHub was established as Australia's first fintech hub, with its fellow fintech coworking peer Stone & Chalk soon following after it. The space is provided by Tyro, an Australia financial technology institution that is the country's only independent and fastest EFTPOS provider. By having one of Australia's greatest fintech success stories as its backbone, members are offered valuable industry insights and expertise and a potential chance to pitch to one of Tyro's clients. As with many other fintech hubs, it is open plan in order to maximise collaboration and community and hosts workshops, mentoring programs, conferences and much more to its members. Headed by Andrew Corbett-Jones who is an experienced entrepreneur himself, Tyro Fintech Hub offers a space where members can build businesses that not only focus on the Australian marketplace but can scale to go global.
Best suited to?
This coworking space is aimed at fintech startups and high growth companies that are generally in their earlier stages and welcomes those that are working to disrupt or innovate in finance, banking, or insurance. Though it may not be the cheapest coworking space on the market, the quality of its support as well as its major industry links make it worthwhile for fast growing startups with real disruption potential that are driven by big global objectives.
"Where else could I meet developers of a financial mindfulness app, help someone explain politics using infographics then meet the Foreign Minister of the UK?"

— Matthew Busby Andrews (via Facebook)
incubator, fintech, technology, mature startups, CBD, Sydney Startup Hub
Where: 4/17-19 Bridge St; Level 8, 11-31 York St (Sydney Startup Hub)
Cost (full-time dedicated desk): $800/month
Free trial: N/A
Geographic focus: Australia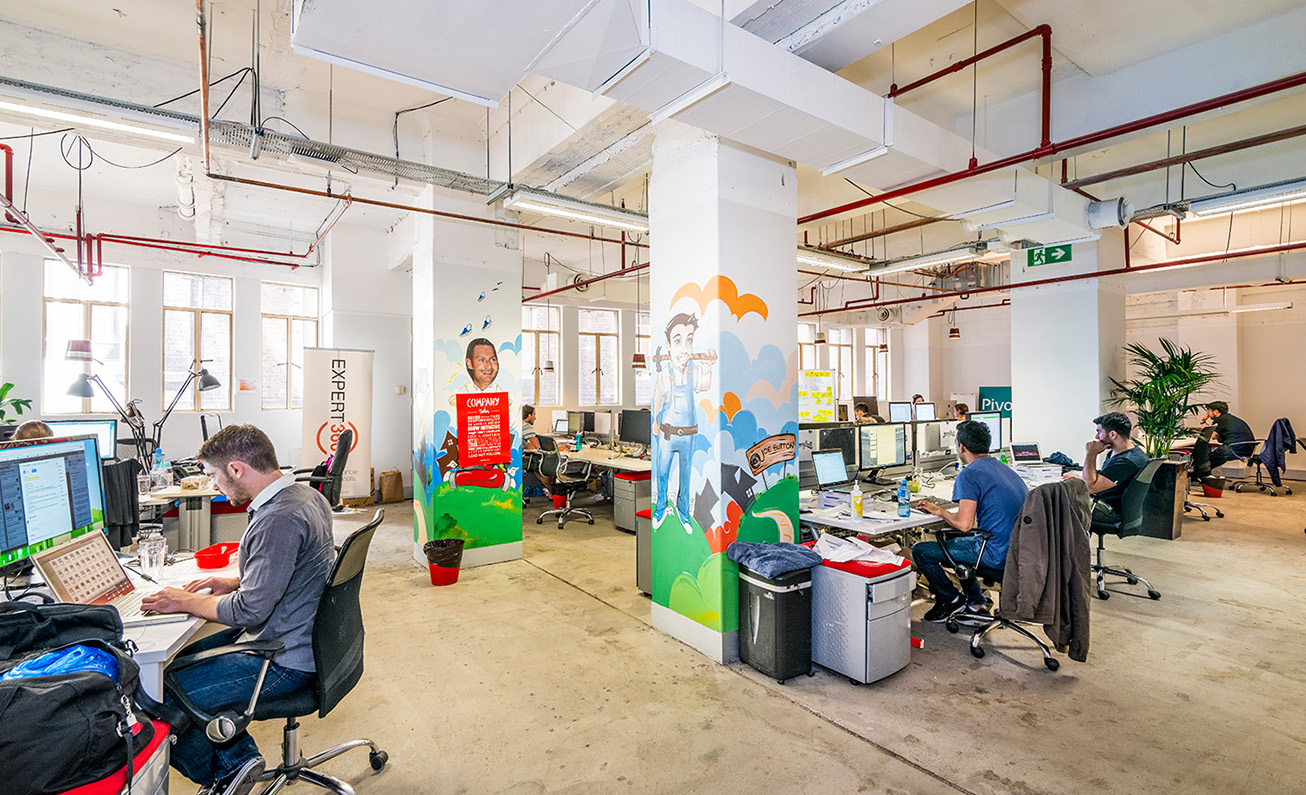 credit: braintreepayments.com
A supportive hub for more mature tech startups
Winner of 2017's Best Coworking Space in Australia at the inaugural Fintech Awards, Tank Stream Labs is a coworking space with global aspirations and a series of successful startups under its belt. Well known businesses Airtasker, Pocketbook, and GoCatch were all once budding startup concepts developed in the offices of TSL. As one of the four anchors of the Sydney Startup Hub initiative, TSL is a well-known hub favored by tech entrepreneurs. Currently housing over 50 startups and over 200 entrepreneurs, TSL provides a community with a great sense of collaboration and development as well as providing opportunities for future investment.
Best suited to?
Tech startups which are past the ideation stage and close to launching should consider working here. Members will find themselves surrounded by numerous driven companies of all shapes and sizes with much potential for collaboration. Tank Stream Labs also rents its meeting rooms, board rooms, testing labs, and other various event spaces externally to non-members as well.
"TSL is a great environment that has allowed our business to grow and thrive. The central location and facilities make it really easy to host clients and partners while providing a professional personal. Having the flexibility to increase our team and interact with other high growth, fast moving companies has allowed us to achieve the success we have to date."

— Jonny Wilkinson (Founder of Equitise)
tech startup, digital services, incubator
Where: Level 2, 66 Oxford St, Darlinghurst; Level 3, 79 Myrtle St Chippendale
Cost (full-time dedicated desk): $450/month
Free trial: 3 days
Geographic focus: Australia, global
credit: enginerm
A space for early stage digital startups
David Vandenberg is no stranger to startups. With a series of small businesses attached to his name, it was his early venture with ePharmacy.com.au that eventually turned into the thriving business that is now Chemist Warehouse. Channeling his passion for startups into developing coworking spaces in Australia, he started with Fishburners which eventually branched off into the digital service focused coworking space, EngineRoom.
With two locations in Sydney, EngineRoom caters for a wider set of technology startups who often haven't yet settled on their primary product concept. With this in mind, this space aims at fostering growth and development through collaboration and learning, offering opportunities to connect with other young digital entrepreneurs.
Best suited to?
Either a sole founder, freelancer, or part of a small team, a typical entrepreneur at the EngineRoom is one that has a focus on digital service businesses and are familiar with aspects of web and mobile production. Members generally already have their own clients with plans of further product development and have the intention of scaling up globally in their sights.
"EngineRoom has been the ideal place to meet new clients and grow my business. In addition to providing the ability to interact with other young digital entrepreneurs and meet new contacts, it's just an awesome place to come to work each day. The energy in this place is absolutely contagious and I've loved every minute of it!"

— Andrew Kilday (CEO of The Performance Factory)
flexible locations, nomadic, casual, budget
Where: All over Sydney!
Cost (unlimited access): $199/month
Free trial: Book here!
Geographic focus: Australia
credit: twospace
Work from a different and unique location every day
Originally a startup that was born out of the collaborative halls of WeWork Sydney, TwoSpace is a unique coworking space that solves the problem of the abundance of empty daytime restaurants and bars, creating a new market for budding entrepreneurs looking for a workspace that is both affordable and simplistic.
By utilising spaces that are generally empty and inaccessible during the day, members are able to choose from a myriad of locations all around Sydney and Melbourne, as well as overseas in Singapore and Hong Kong. This means that members can find the nearest venue in accordance to their current location and use it as office space for the day, or conduct meetings and seminars in a fresh environment. However, with this comes the fact that these venues aren't built with the purpose for office productivity. Though a TwoSpace host is present to check in members and provide wifi, members must bring their own gear (don't worry, they've got tables and chairs).
The best thing about TwoSpace is that at the end of the day, the venue transforms back into a restaurant or bar so members can get the best of both worlds!
Best suited to?
Due to the simplistic nature of its premise, TwoSpace is best suited for nomadic workers who aren't in search for anything too fancy. Naturally, freelancers or startups still in their early stages looking to work in quiet and relaxed environments who only require the bare necessities will enjoy the affordability and scope of locations TwoSpace provides. TwoSpace is the office space solution to those who can't justify the expensive subscriptions of larger coworking companies, that provide an abundance of amenities and services that often go unused.
"Our business has many locations and varying administration hours, it has been amazing to work at TwoSpace. Having flexible office hours in convenient locations makes meeting our trainers far more accessible. There is always a buzzing vibe from new and different people working in the space. Being a business that specialises in wellness, it is great to see an office space promoting a healthy life balance."

— Barton Tanner (Evolution to Wellbeing)
educational workshops, solo entrepreneurs, freelancers, age limit
Where: 525 Harris St, Ultimo
Cost (full-time dedicated desk): $250/month (3 month minimum, $100 joining fee)
Free trial: N/A
Geographic focus: Australia
credit: vibewire
One of Sydney's oldest coworking spaces catering to young people
Vibewire is one of Sydney's oldest coworking space and is located in Ultimo, just outside of the CBD. They mainly cater to very early-stage startups and freelancers by providing them with affordable space.
Vibewire regularly holds workshops such as improvisational public speaking sessions, pitch workshops, and hackathons which are all tailored to expanding 8 essential skills: complex problem solving, creativity, financial fluency, teamwork, communication, digital fluency, critical thinking, and presentation skills.
Best suited to?
Common Room is aimed at solo entrepreneurs and freelancers, not so much startups and established groups. Individuals who are interested or are considering going down the path of entrepreneurship will find Vibewire's workshops and community quite useful. These workshops are designed for young people and there is an age limit in the application process. While permanent desks are available, cost efficient packages for single or multiple access to workshops are also available.
deep technology, global focus, incubator, outside of CBD
Where: 145/4 Cornwallis St, Eveleigh
Cost: Contact for more information
Free trial: N/A
Geographic focus: Australia, global
credit: cicadainnovations
Australia's leading deep tech hub to commercialise research
Cicada Innovations describes itself as Australia's only super incubator for deep tech startups, i.e. startups founded on breakthrough science or engineering. Founded by Australia's top four universities, it creates, validates, and nurtures startups that develop unique technologies that centre around scientific discovery and meaningful engineering innovation.
Startups there are technology intensive businesses that create competitive advantage through creating products and services that are difficult to replicate and will shape the future of Australian industries and workforces. Cicada Innovations understands the significant need for industry specific resources and knowledge and as such provides its members with full time mentors with specialised domain expertise and customed workspaces featuring the most advanced art labs and production facilities.
Best suited to?
Cicada Innovations supports deep tech startups in all stages of development and is best suited to businesses that revolve around creating unique and hard to reproduce technologies in areas such as medicine, agtech, cleantech, advancing manufacturing, big data, or AI and robotics.
"A game changer for Australian Med tech. Amazing incubator amazing people."

— Celi Varol (via Facebook)
Do you have feedback and/or would you like to include your space in this article? Shoot us an email at letschat@haymarkethq.com